The First Step.
When making the decision to become a virtual assistant (or any freelancer for that matter), one of the first projects you will take on is creating your digital portfolio. For most of us who have ever worked a 9-5 job, you can think of your digital portfolio as your new resume. Not only will this showcase your work as you acquire more skills, but it will also be your helping hand as you expand and grow your business as well as be the main thing potential clients look at when making a decision to work with you. You can make a portfolio for free on systems like Canva or Google Slides.
Where Do I Begin?
Colors, graphics, and fonts are all things to take into consideration when you begin your creation. You want something eye-catching but also something that has a calming vibe. Think of what you want your business name to be. Do you want to go by your name, or come up with a business name?
Next, you will want to include a picture of yourself so clients can put a face to your name, as well as your contact information and social media handles. Get dressed up and have someone take a nice headshot of you. Selfies are fine, just make them look as professional as possible. You will also want to create a short bio so your potential clients can get to know you a little before diving into business with you.
In your portfolio, you will also want to include your pricing packages. In the beginning, you may choose to charge per project but as you expand and grow you will likely begin to use monthly pricing packages and this is a great way to keep your clients long term because they will know exactly what you are offering and how many hours you will be working for them and what projects they can expect to be completed in a certain amount of time. It's ok to update your pricing as you gain more experience. I suggest taking a look at your pricing every three months, and adjusting it as needed.
The final page of your portfolio should also include a scheduling link of some kind, a way that clients can set up a face-to-face meeting with you to determine if you are a good fit for their business. The potential client needs to know what to do next aka a call to action is needed. A scheduling link helps them to know how they can connect with you if they are interested in your service. I suggest having two different ways of contacting you. One can be the scheduling link and the other can be an email address or link to your website's contact page. You should also include your social links so that even if they aren't interested in your services at this time, they can follow you on social media and reach out to you in the future.
Build Up Your Portfolio!
In the beginning, you probably won't have tons of example work to show on your portfolio. You may not even have any at all which is why it is so important to begin your journey by slowly getting your toes wet. If you are completely new to the VA world (or freelancing in general) you can always begin by trying to get some practice.
Reach out to local small business owners and offer some of your services for free in exchange for a testimonial from them. Not only are you gaining practice by offering your services for free but you are gaining testimonials to add to your portfolio which in exchange can lead to paying clients and possibly even referrals from those small businesses you just helped out. You can also do a mock type of work to build up for your portfolio by coming up with examples of work for a business so that you can add examples of different styles you are able to do.
Creating your portfolio will be one of the most important and biggest steps you will take to getting your VA business off the ground and running but it is also so very important to stay on top of building it up as you go! 

Every new skill, every new testimonial, and review should be added to your portfolio.
Building your portfolio never ends, and you should always be updating it by taking out the old and adding in the new as you improve. Your portfolio should grow right alongside you as your business really begins to take off. You can always edit fonts and graphics and colors along the way as well but you should really focus on the building aspect of it! Get those reviews, get that practice and work on making a portfolio that makes your future clients certain that you are the best fit for them.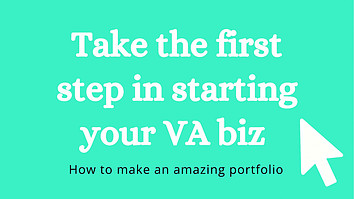 Your Digital Portfolio for the Win.
Your portfolio is your best friend. You have already made the decision to join the VA world and creating your portfolio may be that one thing that can really set your business in motion and the one chance you really get to sell yourself to your potential clients!
It's ok to have more than one portfolio, especially if you plan on having multiple specialties. Feel free to check out my portfolio for some inspiration!
Need help creating your portfolio? Connect with me today!
P.S. Follow me on Instagram for my latest virtual assistant tips!
Your Wandering VA,

Tina