Owning a business can be hard! There are so many moving parts.
Feeling overwhelmed?
Tired of spending time on tasks you hate?
Time is money, so you want to be sure that you are using it as wisely as possible!
In this article, I will discuss the benefits of outsourcing services and provide examples of how you can take tasks off of your own plate and grow your business!
What is Outsourcing?
Simply put, outsourcing is the process of using third-party service providers (like a virtual assistant) to handle certain business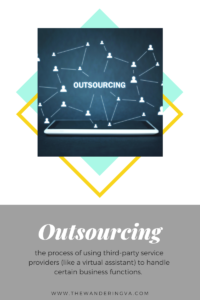 functions.
In today's tough economy, many companies are taking a smarter stance on their workforce by outsourcing. Outsourcing is the practice of getting certain job functions done outside your company so you can focus more on what matters: business growth and expansion. By cutting out excess overhead costs, businesses increase efficiency while controlling costs at the same time!
Outsourcing has become an integral part of our society in recent times as it helps to reduce labor expenses for employers without decreasing productivity or quality standards within these organizations. It also provides temporary relief from high-volume operations when qualified staff members may be unavailable due to unforeseen circumstances like extended vacations or unexpected illness which could prove costly if not handled appropriately via outsourcing arrangements
Outsourcing is perfect for small business owners. As a small business, outsourcing allows you to get more done and trust important tasks and processes to professionals, without having to actually grow your full-time team in a significant way. You can't do it all. It's a lesson that many entrepreneurs learn the hard way. Instead of overwhelming yourself, start thinking of what you can outsource.
What Can I Outsource?
The type of outsourcing work depends heavily on the needs of the business and the industry they operate in. The most commonly outsourced activities include:
Content Writing
Administrative Work
Scheduling
Social Media M
Email Marketing
Project Management
Membership Management
Content Creation
Organization
Website Design
And SO MUCH MORE!!
I specialize in helping with membership management, copywriting, social media management, branding service, and teaching other people how to become virtual assistants!
As you can see, most VA's have so many different skills that can help you and your business thrive!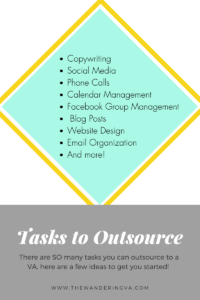 Benefits of Outsourcing Services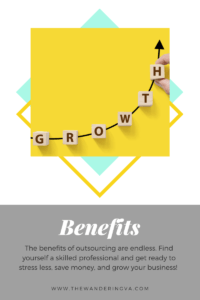 There are so many benefits to outsourcing services! The main one is that it saves you time. My favorite thing about outsourcing is that you are allowing a professional to complete the task for you. You can't be the best at everything, so outsource the things you aren't great at or don't enjoy! By handing it over to someone who specializes in that area, they are more likely to do that task quicker, and help your business grow!
Ready to save money? Outsourcing allows you to tailor your service consumption to your needs. You only pay for what you use and can seamlessly scale your consumption when business picks up or slows down.
Access to skilled professionals! When you outsource, you are acquiring the services of highly skilled professionals. More and more independent contractors are going at it alone, many of whom have years of specialist knowledge and expertise. Most virtual assistants spend a lot of time completing courses and working with many different industries. Imagine all the knowledge you are able to tap into when you work with a VA!
Save time and have more time for yourself! Outsourcing non-core activities like back-office operations or administration free up your resources helping you to focus on the core functions of the business, rather than supporting ones.
Increased efficiency! An outsourcing vendor brings in specialized knowledge and experience, which in consequence leads to an increase in productivity and efficiency of your business.
Outsource Today!
Working long hours? Do you feel like there is never enough time in the day? Are these tasks getting done as well as or better than they would if someone else were doing them instead of yourself?
This is where I come in! Allow me to be your secret weapon by tasking tasks off of your hands!
I encourage you to take time out of your day and make a list of items you can outsource. When you are ready to sit back and watch your business grow, get in touch with me, and I will take those tasks off your plate!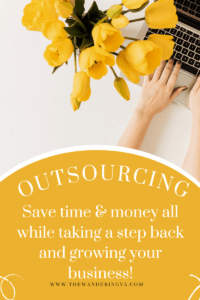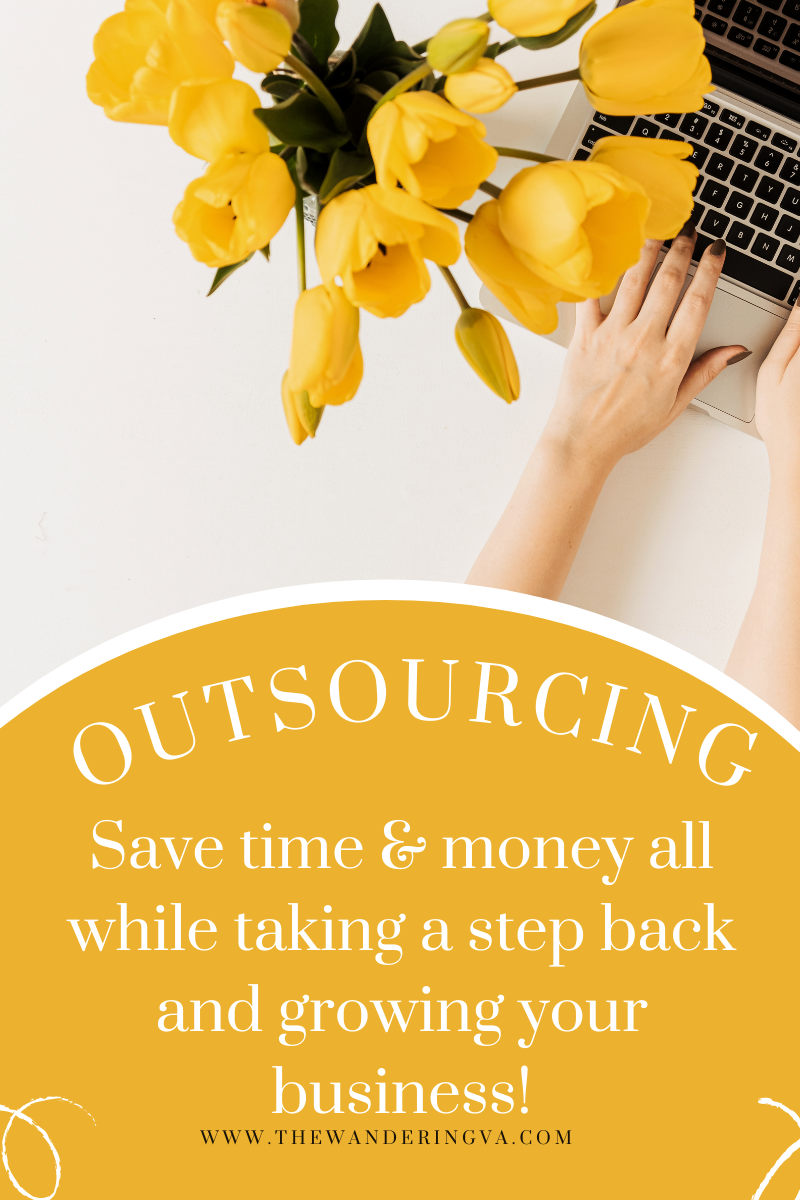 Your Wandering VA,
Tina